Art Nouveau Slant Top Secretary Desk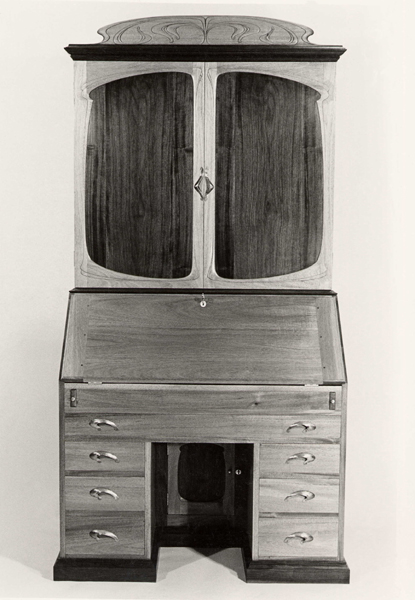 In the 1970s and 1980s, the Salamandre Glass Gallery and Showroom In Portsmouth, New Hampshire provided me with the opportunity to display my own design sense in a very public forum. Although these artisans were not able to pay much, they allowed me to express my affinity for the Art Nouveau period – which was also renowned for such famous glass artists as Emile Galle and Louis Comfort Tiffany.
This secretary was commissioned by one of my early patrons, who saw my work in Portsmouth and wanted unique furnishings for his residence in rural New Hampshire. He needed a very serviceable desk with innumerable drawers and pigeonholes for his paperwork, and 'secret' locked compartments for valuables.
When closed, this secretary desk features 6 drawers flanking a kneehole area with a locked compartment in the recess. A full drawer spans the front, and the slant-top, drop front desk sits above that, with pull-out supports. The upper case is framed in cherry with black walnut panels, with a carved black walnut crown and cherry pediment rising above. The entire upper case is carved in the undulating art nouveau lines that distinguished the Salamandre Glass cases, and the custom-designed and cast brass hardware follows this curvature.
When opened, the desk and upper case reveal a warren of nested spaces and compartments, some with tiny doors, some with locks, and some with little drawers. This 'workspace' allowed for multi-tasking, and promoted organization for a businessman who traveled extensively.