Art Nouveau Tampa Dining Room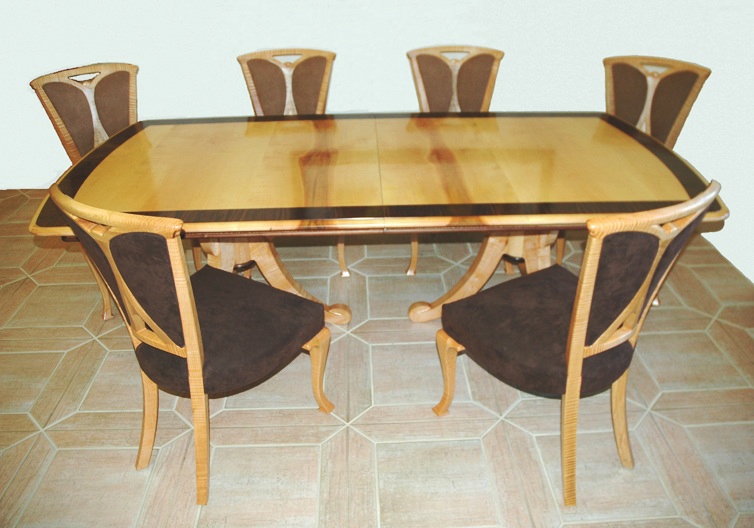 I had worked for these clients on their home in New York, and was engaged to build furnishings for a new residence in Florida. When they expanded onto the adjacent lot 1n 1998-2000, I was able to be part of the initial design phase with the architects, and designed and built the architectural doors, windows, staircase and bar kitchen of the Great Room, as well as the furnishings. In a third expansion in 2006-2007, the original wing of the house was expanded and re-visioned, and this dining room was a part of that concept.
It was determined that the furnishings be of a light colored wood, and curly or tiger maple was chosen as the primary with black walnut as the secondary wood. The curly maple table design emerged as a variation of the several pedestal-based Regency period tables that I had made for other clients. It retains the inlaid border of classic Regency tables, while reversing the color contrast to a light table with a dark walnut inlay. This pedestal base was selected from a series of others that I had designed for this commission, and inverts the traditional tripod post of the classic Regency form.
The chairs for this dining room drew upon Art Nouveau forms and lines that I have been exploring for over 30 years, and retain specific carved motifs seen in other pieces, such as the Tamworth Chair. In many lights, the exceptional curly maple of these chairs becomes the predominant design element, therefore a simple solid textile was selected to emphasize the form.